This year Czentrifuga  is located on Nail Street 
we are teaming up with Divo Institute from Prague and the performance artist Kirsty Kross. There will be ongoing "peacock stick" building workshops , also, make your own  D.I.Y.  costumes, accesoires and masks from fancy trash, a screenprint exhibition and info point about our socio cultural activities xxx
kirsty kross - "coral trout" performance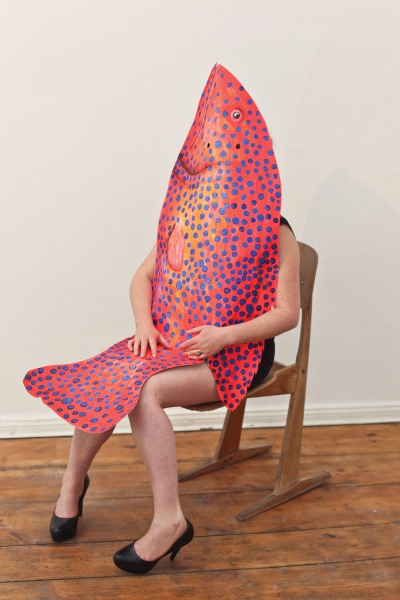 «100 Ways of Bastel»
our english translator is currently a.w.o.l.  copy the text into  a translator if you want to know what its about (its only what he does anyway :-)
Ist Basteln eine Form des Denkens? Braucht es zum Basteln  nicht mindestens zwei? Warum kann zeitgenössische Kunst keine Revolution erfinden? Wie funktioniert eigentlich das Basteln  und was ist, wenn es nicht mehr funktioniert? Diesen und anderen Fragen gehen wir bei «100 Ways of Bastel» nach. Während fünf Tagen feiern Czentrifuga und Divoinstitut diese Fusion eine Bastelorgie. «100 Ways of Bastel» ist eine Ausstellung, ein Workshop und eine Begegnungsstätte. Sie verwandelt unser kleines Zelt in ein Laboratorium – für Forschung, Kunst und Lehre –, und sie verschreibt sich dem Rausch der Kreativität und der grossen Diversität, die hinter dem Begriff «Bastel» stehen.
Im Zentrum steht eine interaktive Skulptur, die sich mit den Formen des Basteln  in verschiedenen Wissenskulturen und künstlerischen Praktiken auseinandersetzt. In der Erwartung Kunst zu sehen werden Dank  wissenschaftlichem Gelaber , Schrott oder Müllhaufen als Mehrwert generierende Kulturgüter  wahrgenommen. Die Skulptur wird während dem Festival von Publikum und Künstlern ständig erweitert,und richtet  den Blick auf den kreativen Umgang mit Zivilisationsmüll und die Ausgestalung der Skulptur; im laufe des Festivals wird sich die Skulptur über das ganze Zelt ausufern,sie lebt von der Vielfalt und Beständigkeit, aber auch von der Vergänglichkeit und Einmaligkeit. Ein kleines Programm verschiedenster Veranstaltungen und ein  Workshop zum Bau von Standarten ergänzt die Ausstellung und moderiert das Zusammentreffen. Das Zelt wird zur Bühne für zahllose Begegnungen: Zwischen Abfall, Kunst und Baselorgie. Zwischen der Suche nach Sinn und dem Sinn für Antiästhetik und umstürzlerischer Zusammenkunft. Zwischen Rückenschmerzen und Muskelkater . Zwischen Menschen aus unterschiedlichen Umfeldern mit einer gemeinsamen Lust an Bastel und der totalen Zerstörung des akademischen Kunstbegriffs
and watch out for the 8 Brains Trash Sculpture..heres a sneaky peak..
Date:
Wednesday, June 27, 2018 - 20:15
to
Sunday, July 1, 2018 - 21:15