hier alle wichtiger infos zu hoeren im radiospielformat / here are the infos in a fantastic radio stylee
https://www.leichte-sprache.berlin/leichte-sprache/einfach-leben/posts/Spaceship-Pary.php?fbclid=IwAR07vs4o4fQchLo9hJkDivcVIuVV8AcYkU8WWckzxgh5uR9_IniB5xH-skQ
Werner aka Bläck Dävil ist ein eigensinniger und ungewöhnlicher Typ, den man sowohl als Person als auch als Künstler so schnell nicht wieder aus seinem Kopf bekommt. Sein Motto könnte lauten: Aus Scheiße Gold machen. Oder aus kaputten Computern (halbwegs) funktionierende. Oder aus einem gefundenen Plattenspieler ein paar Euros. Irgendwie geht es immer weiter und Werner steht nie still, er macht Tauschgeschäfte mit der halben Stadt, und irgendwie schafft er es immer, sich alles zusammenzusammeln, was er braucht, um weiter Musik zu machen. 1998 auf der Loveparade, als 14 Jähriger, zwischen Siegessäule und Tiergarten, zwischen "Over the Rainbow", "Computerstaat" und "How Much Is The Fish" hat er seine Liebe für brummende Bässe und schnelle Beats entdeckt. Seitdem durchforstet er die Plattenläden Berlins nach Samples, die er zerhacken und zerstören kann, Schneller, Härter, Lauter sampelt er aus allen Genres seinen Mix zusammen: Schlager, Hip Hop, Gabber, Hard Tek, Metal, Punk, Rap werden zum tanzbaren eklektischen Amalgam: bunt zusammengewürfelt, eigensinnig, ungehört, mutig und irgendwie klingt das alles wie eine einzige große Party.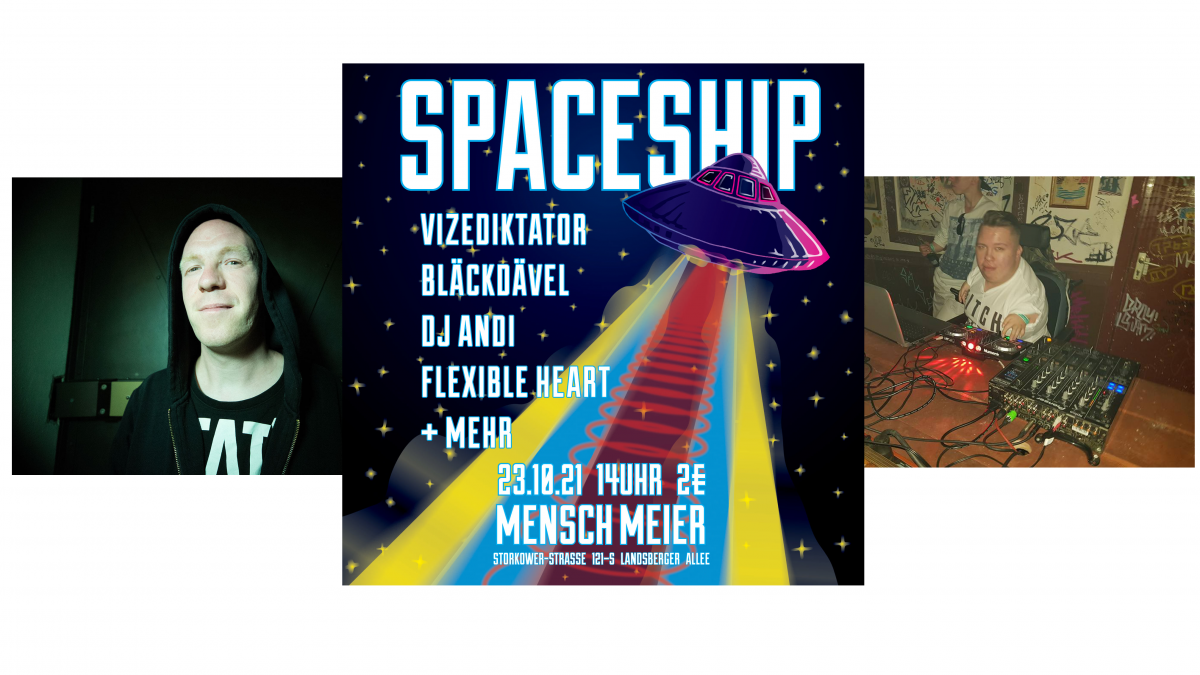 Seit 2018 ist Werner auch Teil des Projektes Ick mach Welle! und hat sich auch in diesen Kontexten auf der Bühne ausprobiert. Wer Bläck Dävil live gesehen und gehört hat, weiß von der einzigartigen Energie, die er auf den Dancefloor bringt, sei es hinter einer Drum Machine, einem Synthesizer oder am Mikro. Bläck Dävil ist der Derwisch, der Dich zum Lachen und zum Tanzen bringt. Foto Nietze Denise
Opening am Samstag 14 Uhr macht Andreas Koszela aka DJAndi!
Sein letzter Auftritt bei Spaceship ist schon über 3 Jahre her und wir haben gute Erinnerungen daran!
Einmaliger Pop-Mix kredenzt vom jungen Spaceship-Piloten im goldenen Oktober! Das klingt doch nach was.