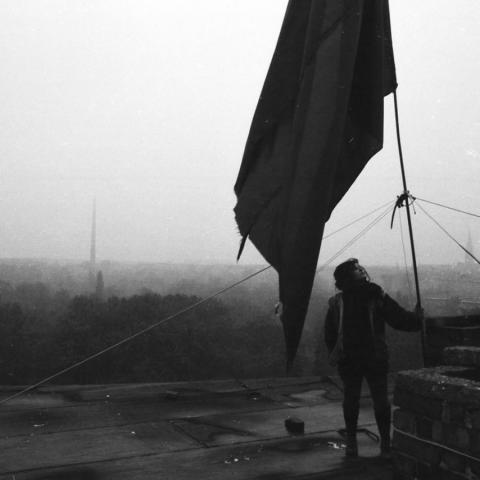 21.09-04.10
Mainzer Straße
(DEUTSCH UNTEN)
14.11.90 – an audiovisual psychogram for the 30th
anniversary of the evacuation of (squatted)
Mainzerstrasse with marc weisser and czentrifugas very
own marko krojac
a 4-channel audio-visual installation, walk-in image-sound
documentation.
At the same time as the exhibition, a limited vinyl edition
of the record  "Arurmukha-14.11.90" with a cover photo
by Harald Hauswald will be released in September on the
Berlin label Karl Records.
http://modellberlin.com/marc-weiser-marko-krojac/
14.11.90 – ein audiovisuelles Psychogramm zum 30. Jahrestag der Räumung Mainzerstrasse
4-kanalige audio-visuelle Installation, begehbare Bild-Ton-Dokumentation.
Zeitgleich zur Ausstellung erscheint im September beim Berliner Label Karl-Records eine limitierte Vinyl-Auflage der Platte "Arurmukha-14.11.90" mit einem Cover-Foto von Harald Hauswald.
Date:
Monday, September 21, 2020 - 18:15
Sunday, October 4, 2020 - 03:30